Launch:
North side of Causeway by the triple public boat ramps.
Launch Cost:
Free.
Route:
Pedal northeast up Chacalloochee Bay, aka Chocalata Bay and back.
Distance:
6.0 miles.
Average Speed:
3.0 mph.
Time:
Approx 2 hrs.
Pace:
Slow.
Weather:
Cloudy, in the 60s, winds calm, humidity 100 percent, foggy drizzle. No current and little change in tide.
(1) Above left.
Though the clouds looked threatening on this late afternoon pedal trip, the waters were slick as glass and the temperatures were warm. After starting out, a boat ripple enticed me to take a photo.
(2) Above right.
The boat ripple, merging with my kayak wake, made for an interesting ripple design.
(3) Above left.
Looking west, a photomerge of the land area dividing Chacalloochee Bay and the Tensaw River. The clouds and their reflection on the smooth quiet waters were mesmerizing.
(4) Above right.
Further up in Chacaloochee Bay, looking toward the northeast, this is another photomerge that just doesn't capture the full scope of the beautiful sky at that moment.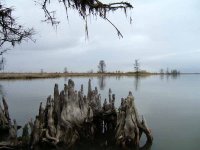 (5) Above left.
Cypress tree knees out in the middle of the water.
(6) Above right.
Grass near the entrance to Savage Ditch. The clouds merged with mist and fog turning the sky into one color.
(7) Above left.
Conditions were good shortly after staring this trip as the skyline can be seen in the background.
(8) Above right.
On the way back the skyline was no longer visible. Even the tree lines in the horizons became difficult to see. Cars going across the causeway could be heard, but not seen. Conditions can deteriorate rapidly. Fog can come rolling in so fast that you won't see it until you are in it and everything disappears. When kayaking, you should always take a GPS with you that has a Waypoint from where you started. This was my first trip of the year. Sadly, the mosquitos are alive and hungry in January. Jeesh.