Launch:
Southeast end of Dauphin Island by the rock jetties.
Launch Cost:
Free.
Route:
South to the far end of Sand Island, then northwest along the north side of Sand Island to the public beach, then east along the south side of Dauphin Island back to the rock jetties.
Distance:
9.2 miles.
Average Speed:
2.9 mph.
Time:
Approx 3 hrs.
Pace:
Moderate.
Weather:
Sunny, temp 50-55 degrees, 20 percent humidity, winds light about 5-10 mph. By the rock jetties, there was stronger than usual current. It was a bit chilly, but with a pedal kayak, exercise will soon warm you up.
(1) Above left.
I only saw one motor boat in five hours today. Saw no dolphins. There were however, plenty of birds, like usual. After arriving at Sand Island, I got out of the kayak and hiked around to take photos of birds, like the gulls in the left photo. The end of Dauphin Island (Fort Gaines) is visible on the left horizon.
(2) Above right.
Pelicans were out in force. What a beautiful bird.
(3)(4) Above left and right.
The Sanderling on the left is about half the size of the birds on the right. I think they are some species of sandpipers. If you know what they are, leave a comment. Thanks.
(5) Above left.
This bird looks like a reddish egret.
(6) Above right.
Not sure what this duck like bird was. It had the capacity to swim under water and stay down for a long, long time. This one accidentally popped up next to the kayak and froze in astonishment just long enough to take a photo. It must have never seen a pedal kayak before.
(7) Above left.
Taken was near the north end of Sand Island. There is another condo going up.
(8) Above right.
A heron patiently waits for a handout from the fisherman on the pier. This was taken from the west side of the pier looking southeast. Sand is visible around the back piles. That is how close Sand Island is now.
(9) Above left.
Recent winds created some interesting terrain, from the perspective of being on your elbows. This reminded me of a scene from another planet.
(10) Above right.
I don't remember seeing a wall of sand on the northwest side of Sand Island in the past, but it is there now. This shot was taken from about knee level.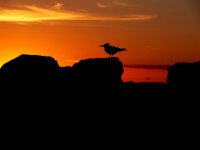 (11) Above left.
The best way to end a kayak trip is by experiencing a sunset. Here, a great heron crossed its legs in an apparent pose.
(12) Above right.
There is no mistaking the outline of a tern. Kayaking just doesn't get any better than this. Football? Nah, I'd rather be kayaking
!