Launch:
North side of Causeway by the triple public boat ramps.
Launch Cost:
Free.
Route:
Pedal northeast across Chacalloochee Bay, up Conway creek, across the Conway-Big Bateau cut, up Red Maple Slough, and back.
Distance:
12.0 miles (counting detour).
Average Speed:
3 mph.
Time:
Approx 4 hrs.
Pace:
Slow.
Weather:
Sunny, temp in the mid 50s, winds were calm at the start, then increased to a steady 10-12 mph from the south making for a chilly trip. Waters were low and tide was rising.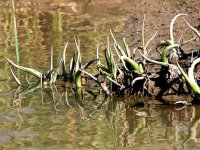 (1) Above left.
The waters of the lower end of Chacalloochee (aka Chocalata) Bay were low enough for the birds to stand. Pedal boats are confined to using one small channel that is still hard to follow despite white pvc pipe markers. Once in Big Bateau, I had to turn around and go the long way up Conway Creek to get to Red Maple Slough because it was too shallow and I couldn't remember where the deep water was. Pedal boats can be a handicap sometimes, but then again, even regular kayaks would have been scraping oyster shells today.
(2) Above right.
In Savage Ditch, there were green signs of warmer days soon to come. I'm starting to get excited about kayaking again!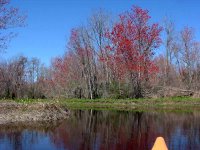 (3) Above left.
Many of the trees in Red Maple Slough lay on their side showing a large but shallow root system that proved to be no match for last year's hurricanes. If you look hard, you can see a little red on the tips of the mangled trees. It is still too early for the Red Maples to be in full display.
(4) Above right.
I took this photo on 3-23-2002 about a hundred yards before the photo on the left. Sadly, Red Maple Slough will never look like it does in this photo because it will be a long time before signs of the hurricane are eroded away.
(5) Above left.
After spending an hour going down Conway Creek fighting a headwind and opposing current, the setting sun provided no warmth as I pedaled southwest back across Chocalata Bay. A relentless bone chilling wind created a small chop that was hitting the kayak causing a spray to get my left side wet.
(6) Above right.
The dark horizon of the Mobile Skyline showing the current height of the new RSA building underneath the dyed sky made up of the setting sun, a mixture of clouds, jet trails, and smoke from fires. The sunset made me forget it was chilly out and I was still wearing shorts. Here is what the RSA tower (building on the far right) will look like when it is (
finished
). You can find photos of the construction of the RSA tower, from another perspective,
here
.
(7) Above left.
The sunset featuring the battleship
USS Alabama
which is now back open for business.
(8) Above right.
The sunset featuring the huge
Atlantic Marine
and
Alabama Shipyard
cranes which are prominent fixtures on the Mobile Skyline. If you ever want to know what the Alabama Shipyard is building, click
here
for present and past shipyard history. According to the record, Alabama Shipyard last built a
hopper dredge
for Manson Construction. I love kayak trips that conclude with a sunset.
"When I admire the wonders of a sunset,
my soul expands in the worship of the creator."
--Mohandas Gandhi