Launch:
Public boat ramps (triple set) just west of the I-10 crossing on the north side of the Causeway (Highway 90).
Launch Cost:
Free.
Route:
Northeast to the entrance of Conway Creek, then south to Pass Picada and back.
Distance:
6.6 miles.
Average Speed:
3.4 mph.
Time:
Approx 2 hrs.
Pace:
Leisurely.
Weather:
Sunny and hot even though it was morning.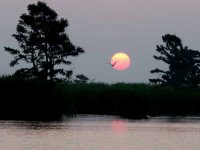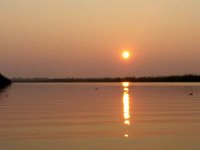 (1) Above left.
Sunrise near the entrance to Big Bateau.
(2) Above right.
Three river dogs (alligators) surfaced and kept a watchful eye on my movements.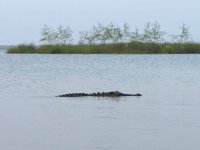 (3) Above left.
This one river dog seemed bolder than the others but we both kept our respectful distances.
(4) Above right.
I'm sure glad these river dogs are stupid and do not realize how easy kayakers could be tipped over to be food.
(5)(6) Above left and right.
These are flowers of the arrowhead plant which if you collect the tubers and cook them, they are supposed to be delicious. There were beetles all over the arrowhead flowers.
(7) Above left.
A grackle kept pointing to its right or it was favoring a bad wing.
(8) Above right.
Pods from a pea plant that dominates the landscape in many areas of the lower delta. The pea plants grow 10-12 feet tall.
(9) Above left.
I cannot go into the Delta without taking a few trips into the stream bank vegetation to see what currently in bloom or active. The monster grasshoppers are still around.
(10) Above right.
There were also plenty of beetles (Pennsylvania Leatherwing beetles I think) getting nectar from the arrowhead flowers.
Kayaking:
The final frontier, going where no motor boat has gone before. I hope the trip journals here bring you viewers a glimpse of what kayaking in the Mobile-Tensaw River Delta is like.