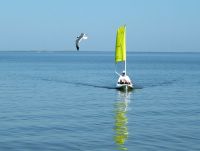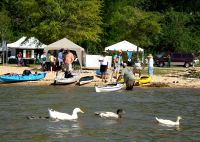 Earth Day Kayak Demos at Fairhope Pier


I started out Earth Day in Fairhope, AL., where several businesses would be conducting Kayak Demos. Thinking the event began at 10:00 AM as advertised on a web page, I showed up an hour early. Little did I know the Kayak Demo didn't begin till Noon. Oh well, that meant extra time to kayak. It was a fine morning, too, slick water, and no wind.
First photo above is of Jimmy trying out my Hobie Outback SUV kayak, with the sail up. Luckily, you can pedal the kayak to propel it when the wind stops. Later in the day, when the Kayak Demo event was kicking in, some ducks came over to see who could paddle faster.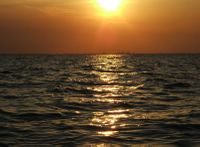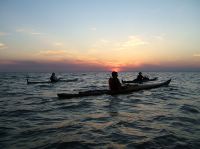 Earth Day Sunset Paddle Summary


No one called or emailed to indicate they would be attending my Sunset Pedal, so, when my watch flashed 6:00 PM, I started pedaling off into the sunset, alone. There was some wind out of the south causing a light chop. About 20 minutes into the pedal, I met up with two kayakers near the shore. They were not looking to join the sunset paddle but were very interested in the pedal kayak. I proceeded to demo the Outback for them and then headed south. About 7:00 PM the sun was getting low on the horizon and I started taking some photos. In the first sunset photo (cropped), the Theodore Industrial Canal buildings are barely visible in the background of the golden sunset. Not far from Point Clear I turned the kayak sideways to take more photos and noticed 4 kayaks headed my way. I turned around to go meet them and learned they had come out for my paddle. Thankfully, Tom, Fred, Billy, and Patrick decided to go paddling even though I had already left. In the second photograph, after we met up, Fred, Patrick, and Tom are enjoying the last few rays of sun before it disappears. We then turned around and headed back to the Fairhope Pier. On the way back we stopped to listen to a live band playing some pretty decent blues on a stage near the beach. By the time we returned, the waves were finally decreasing in size. Back on shore, even though the moon was lighting the darkness, Fred was able to point out many stars. It was a good day. Every day on water is a good day!