Fowl River Pedal Trip Summary
April 28, 2005. Thursday. 6:30 pm – 8:00 pm. Sunny, 80-75 degrees, light winds from the south. I decided to do a short trip this evening at a workout pace. Between taking photos, I was pedaling at 4-5 mph, breathing hard, worked up a sweat, and it felt great.

Launch:

Memories Fish Camp ($3 Fee).

Route:

Down Fowl River to the Grave Yard and back.

Distance:

5.4 miles round trip.

Average Speed:

4.0 mph.

Time:

About 80 minutes. Below is a photo journal of this trip.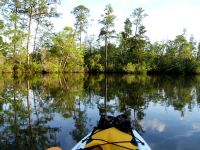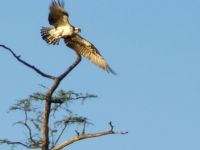 (1)

Conditions were perfect for this later afternoon trip. The top left photo shows nice reflectivity off the slick waters.

(2)

The Osprey Eagles, one shown in above right photo, were out in abundance, along with plenty of Sea Gulls, and Swallows.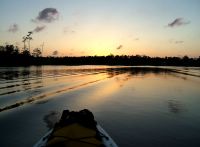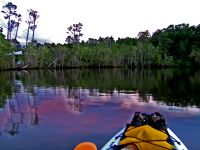 (3)

Just after a nice sunset, a fast bass boat went speeding by leaving a wake that reflected nicely on the calm waters.

(4)

Some wispy clouds caught a red tint from the sun as horizon darkened. To get the red horizon showing on the reflection on the water like it really was doing, the photo was lightened. It was most beautiful. Now that we're on daylight savings time, I'll be going on more kayak trips after work. Watching a sunset from a kayak is one of the best forms of stress relief. I feel relaxed!