Chickasaw Creek - Pumphouse Canal Pedal Trip Summary
Not a cloud in the sky, temp. 60-70 degrees, winds light in the protected areas but breezy in open waters. That is why I planned this trip in protected waters. Had planned on launching at Chickasabogue Park, but the launch site was closed due to high water and dangerous current from last week's flooding. Ironically, a mile downstream at Tucker's Lodge, no sign of flooding at all.
Launch:

Tucker's Lodge.
Route:

Chickasaw Creek to Pumphouse Canal, to Black Bayou and back.
Distance:

8.6 miles.
Average Speed:

2.8 mph. Nice easy sightseeing and photo taking pace.
Time:

About 3 hours. Absolutely beautiful day! Below is a photo journal of this trip.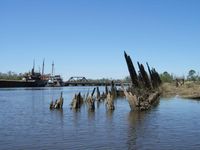 1) After you go under a few bridges (east from launch site), you'll find yourself in an industrial area with old ships lining the bank on one side and an old sunken barge on the other side.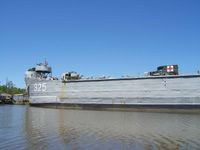 2) Just around the corner to the right sits the LST-325 that is open for public tours during the week. I could only fit half the ship into the photo above.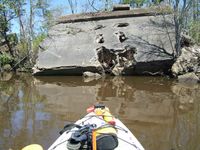 3) Continuing east, tons of old road trash the north bank which divides Chickasaw Creek from Black Bayou. Some of the road scraps are memorable, like the piece in the above photo reminds me of a smiley face. It never fails to get me to smile as I pass by it.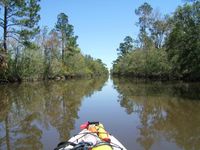 4) Further east, just beyond the Shell barge fueling station and to the right, is the Pumphouse Canal. It is a man made canal about 3-4 miles long. The pumphouse was removed recently. For those days when the winds are blowing, the Pumphouse Canal is a great kayaking destination. Note how the waters are slick - no wind here even though the wind is blowing elsewhere.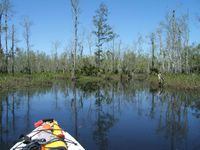 5) There are several short streams on the north side of the Pumphouse Canal that are fun to explore. One of the streams leads to Black Creek. Note how the color of the water is darker compared to the following shot which was taken nearby.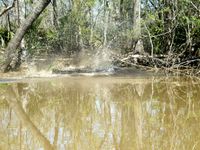 6) I have never been disappointed when it comes to seeing critters when paddling the Pumphouse Canal. An eight to ten foot alligator decided to come out with a splash to greet me, leaving a considerable wake behind it. Don't go swimming in these waters!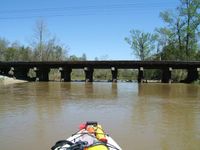 7) The railroad bridge was my stopping point because of a log jam. The original plan was to go to Mobile River which is beyond this bridge shown above. To get to the Mobile River which is just 700 feet beyond the bridge, would have meant a short portage. Not up to it today.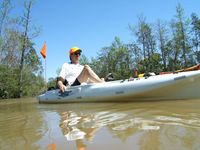 8) Me in the Hobie Mirage Outback (my pedal kayak). Yes, enjoying the scenery while getting a workout. Pedal kayaking sure beats in indoor treadmilling!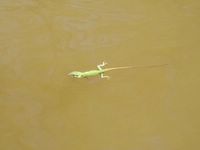 9) The cute little lizard braved the waters to come out and see the Hobie. The lizard was impressed to say the least. Poor thing wasn't much of a swimmer though, and it needed assistance to get back to shore.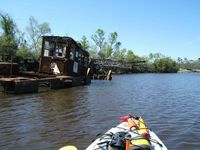 10) Black Bayou, where trash is lining the south bank. Not a very pretty sight.
11) On the north side of Black Bayou is a little slough that is great for bird watching. Today I got to see swallows doing acrobatic moves just above the water's surface. Got to see some Prothonatory Warblers which are abundant along side the Pumphouse Canal.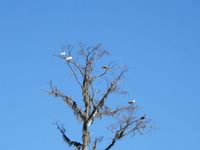 12) Also got to see Osprey Eagles, Herons, and Ibis and family.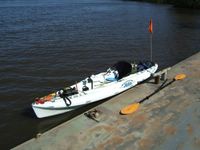 13) For those interested, this is what my Hobie Mirage Outback looks like loaded down. It is located against a barge that is conveniently located near the LST-325 for taking a break.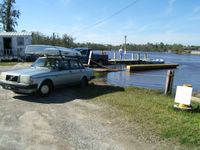 14) Tucker's Lodge (aka Tucker's Landing). It costs $3 to launch a kayak.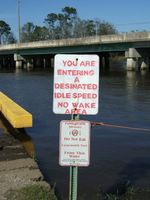 15) Parting shot: Do not eat the fish and beware of owner's spelling! LOL