Chickasaw Creek – LST - Pedal Trip Summary
Went on a short pedal trip after work since it was suppose to be storming all day Saturday. It was cloudy, temp about 80 degrees, winds strong and gusty, which is why I chose an inland destination, and tide was high.

Launch:

Tucker's Lodge in Chickasaw.

Route:

East on Chickasaw Creek to the Pumphouse Canal.

Distance:

4.8 miles.

Average Speed:

3.1 mph.

Pace:

Very slow on trip out with many stops. Fast on the way back.

Time:

Approx. 1.5 hours.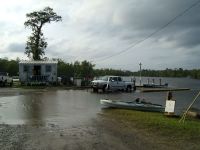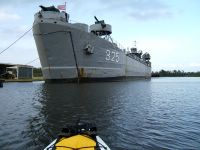 (1)

Above left photo shows high tide at Tucker's Lodge. A strong wind from the south was blowing the water from the bay inland creating even high than normal tide.

(2)

First destination was to go see the LST-325 (Landing Ship, Tank), an amphibious vessel designed to land battle-ready tanks. It has BIG doors on the front which you can see in the above photo on the right. LST 325 is currently at Hook's Terminal in Chickasaw, AL. Visiting hours are Monday through Friday, from 10 am until 3 pm. This historical ship will be leaving on May 17th and coming back on July 4th, this year. Visit the LST while you can because its eventual home will be Evansville, Indiana.
http://www.lstmemorial.org/default.htm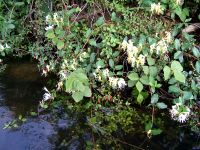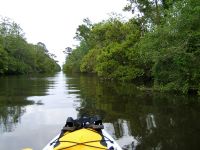 (3)

On the banks near the LST, wild flowers were out in force - Honeysuckle, Mints, Nightshade and others I've never seen. Dewberries were ripe for the picking.

(4)

Second destination was the Pumphouse Canal where the waters are very sheltered from northerly or southerly winds as you can see in the above right photo. Saw spider lilies and blue iris in bloom. Besides mosquitoes, yellow flies were very active causing me to quickly turn around and head for the wind.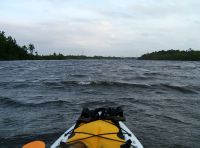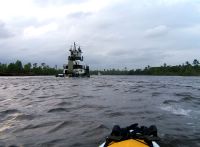 (5)

Chickasaw creek takes a turn to the south before coming out in Mobile River. It the above left photo, winds were whipping up small choppy waves, but I stayed dry.

(6)

In the above right photo, on the return trip, I enjoyed surfing the kayak in the wake of tugboat while it lasted.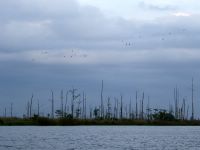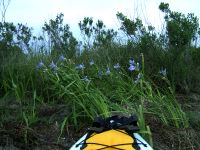 (7)

A third destination was Shell Bayou in order to get out of the wind and waves. In the above left photo, you can see skeletons of trees along with sea gulls. There was a never ending stream of sea gulls headed south. The dead trees have been stripped of almost every limb by Osprey Eagles. Osprey Eagles will dive bomb and grab a limb with its powerful claws breaking it off the tree for use in their huge nests.

(8)

Blue flag (iris) is blooming along the banks of Shell Bayou. The blue flag in the above right photo are bent over from the force of the wind. Kayak trips do not have to be long to be enjoyable. May the current be with you.