I do not normally do much product reviewing, but, a few things have caught my eye which might be of interest to kayakers. If you have a refund check coming in the mail, maybe some of the following products might be what you want. I am not promoting any brand over another, merely providing links to products that have the technology discussed. There may be other brands not listed that have the same technology.
GPS
A few months ago I commented on how the mapping end of GPS devices was lacking. The news I'm happy to report is there are now GPS devices that use aerial maps. That is a vast improvement over using USGS quad (topo) maps or the basic map that comes in the GPS. Now kayakers can look at an aerial image to determine where they are and where the stream goes. It is like using Google on the home computer, but on a smaller device. Better have some serious bucks though for these serious GPS units.
DeLorme
(above image) is one of the manufacturers with Aerial mapping GPS units.
VHF
GPS has been incorporated into some of the VHF marine radio receivers and DSC technology has been included in several brands. DSC means Digital Selective Calling and it gives you the ability to press one button to call for help during an emergency and your precise location and is sent out during the call. The precise location comes from the built in GPS. This is a valuable safety feature for offshore paddlers and people on long expeditions.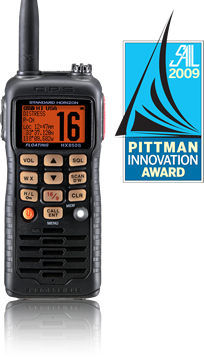 Both
Standard Horizon
(above image) who got the SAIL Pittman innovation award in 2009 and
Uniden
(below image) make VHF receivers with internal GPS and DSC.
SPOT
One last gadget that has been on the market for a while now is called
SPOT
. This hand size device operates via satellite technology and it works whether there is a cell tower signal or not. There is an annual fee for being connected to the satellite communications center. One push of a button will send the nearest emergency squads your way no matter where you are in the world.
Spot also lets you leave a track record (markers on a google map) of where you have been. That way you can let family and friends know your location (via email or web links) and that you are okay even though you can't talk to them on the phone. Read the above
kayaker's
thoughts on Spot.
EPIRB, PLB, ELB, SART, and AIS
Going on a seriously long expedition in the middle of nowhere? Emergency Position Indicating Radio Beacon (EPIRB), Personal Locator Beacon (PLB), or Emergency Locator Beacon (ELB), and other marine emergency devices are becoming affordable and can even be rented.
Click Here
for more info.
Be safe and happy paddling to you!