5/1/05 - BLESSING OF THE FLEET PARADE
After getting my belly filled with seafood, I found myself being drawn back to the boat ramps for another trip into the bayou. There were still 5-6 hours of daylight left and the weather was absolutely perfect.

Launch:

Bayou La Batre Public Boat Ramp.

Route:

Up and down Bayou La Batre a few times.

Distance:

12 miles.

Pace:

Leisurely 2-3 mph.

Time:

Approx. 4-5 hours.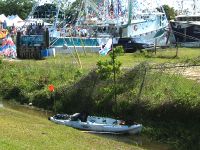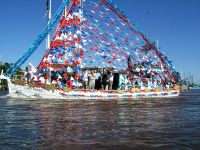 (1)

I don't know what possessed me, but after leading a club paddle, back into the Bayou I went, alone. This time I hoisted a 4 foot long windsock 10 feet into the air using a sailing mast. I had pulled out this windsock for the morning paddle, but was politely encouraged by Roland to leave it in the car. Above left photo shows my kayak with windsock, where I left it in the ditch temporarily to go watch the parade.

(2)

I joined the boat parade and had a blast. Above right photo shows the Lady Renee carrying the Archbishop of Mobile up and down Bayou La Batre. Many of the folks on board were pointing at my little boat and the Archbishop sent a few sprinkles my way.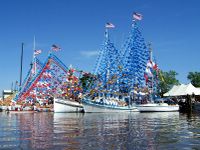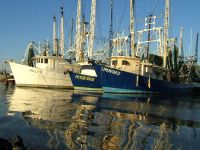 (3)

It is one thing to go up and down the Bayou during the day of the Blessing of the Fleet, it is entirely different to go up and down the Bayou during the parade. Ships are blowing their horns and boat occupants scream, and whistle. I'll definitely be there next year. Above left photo shows a few of the forty or so decorated boats.

(4)

On the way back, as the sun was getting lower on the horizon and the waters were getting slicker, shrimp boat reflections became mesmerizing, as in the above right photo and in the two photos below.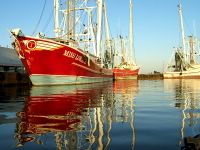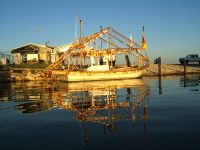 (5)

Above left photo shows a nice red colored shrimp boat reflecting its hues onto the water.

(6)

Above right photo, though a small shrimp boat, it radiated golden sparkles into the water during the last few minutes of sunlight. There are no sunset shots on this day's journal because the No-See-Ems began swarming and biting, even through insect repellent. I loaded the kayak in record time with one arm, while the other one scratched.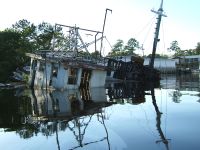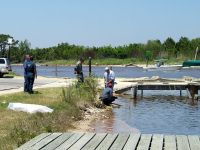 (7)

Colorful shrimp boats can be very pleasing to the eye, but, there are some serious consequences to their neglected presence. In the above left photo, there is an oil or fuel slick sheen on the water coming from sunken shrimp boats. Wrecks just sit under water, continuing to deteriorate and pollute. Why do we let this go on? Do they let old vehicles sit and rot on road sides while polluting the environment with hazardous materials?

(8)

When Brint, Linda and I returned from our club paddle, above right photo shows an environmental hazmat response team cleaning up a diesel fuel spill at the boat ramps. Bayou La Batre - there you can find magnificent beauty amid magnificent amounts of pollution and trash. Better enjoy this Bayou while you can before it turns into a total trash dump.