Launch:
Meaher park public boat ramp.
Cost:
Free.
Route:
Meander around Ducker Bay.
Distance:
2.6 miles.
Average Speed:
1.8 mph.
Time:
Approx 1.5 hrs.
Pace:
Slow.
Weather:
Sunny with thunderstorms forming off in the distant north, east, and west. Temp in the 90s with high humidity. Knowing there is a lot of grass floating on the waters along the causeway, I decided to take the paddle kayak (Necky) rather than the pedal kayak (Hobie), out for a short after work trip.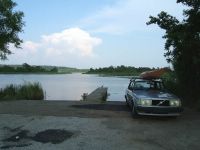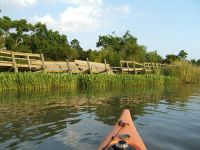 (1)
Above left. A heron sits on the dock watching and an alligator swims along the bank (out of view in this photo), both waiting on handouts. Someone obviously feeds the alligator that hangs out by this dock because it has no fear of humans.
(2)
Above right. The Meaher Park boardwalk is not seeing many visitors because it is still in a state of disrepair.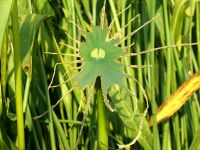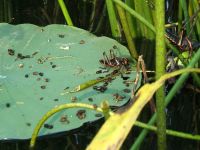 (3)
Above left. This is what is left of a huge Lotus flower leaf. What could have eaten such a large leaf?
(4)
Above right. It is large southeastern lubber grasshoppers that eat vegetation. Their poop (round objects on leaf) is about as big as rat poop. Sorry for the crappy photo. Anyway, for those interested, American Lotus flowers should be starting to bloom in the next week or two.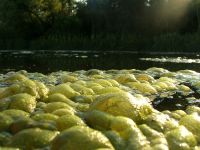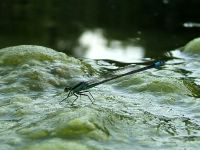 (5)
Above left. Having been kayaking in mostly deep waters to accommodate the pedal kayak, it felt odd to be paddling across pond scum and along the shallow areas of Ducker Bay. Sure have missed regular kayaking.
(6)
Above right. A damselfly makes itself right at home on the pond scum.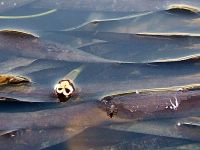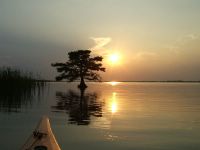 (7)
Above left. An odd looking flower coming from a stalk among the thick water grass. There are also two empty insect shells on the right, and some sort of insect that scoots along on the water (perhaps a strider?).
(8)
Above right. The sun gets ready to snuggle up behind the clouds.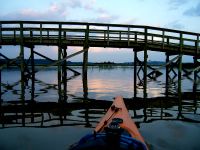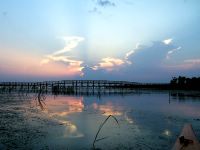 (9)
Above left. Meaher Park boardwalk bridge that spans Ducker Bay, on the west side looking east.
(10)
Above right. Same boardwalk bridge, only now on the east side looking west. This was a real pleasant after work paddle. All the stresses of work melt away when I breathe deeply while enjoying the solar light show. I'm going to do this more often.