Launch:
Memories Fish Camp.
Launch Cost:
$3
Route:
Down Fowl River a few miles and back.
Distance:
6.4 miles.
Average Speed:
4.0 mph.
Time:
Approx 1.5 hrs.
Pace:
Leisurely.
Weather:
Partly cloudy. Water was flowing faster than normal due to storms dumping heavy rain earlier in the day. Water was more turbid than normal.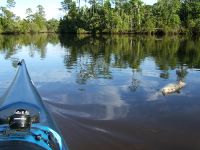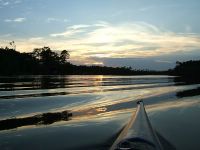 (1)
Above left. It had been almost a year since going out in the Seda kayak. Since there had been some serious pleas for me to sell the Seda, I decided to take it out again and see how I felt about selling it. The Seda sure doesn't like turning as I almost ran into a dead gar that was stinking up the waters.
(2)
Above right. A boat came buzzing by turning the almost mirror surface into wave after wave.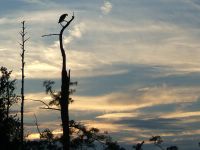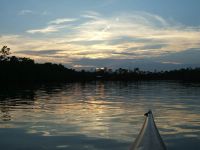 (3)
Above left. An Osprey Eagle enjoys the view of the setting sun from a higher perspective.
(4)
Above right. The once smooth surface still has little ripples left over from the passing boat. The colorful horizon made for a beautiful afternoon sunset paddle. As for the Seda, although the kayak was tippy to start out, it is a fast moving kayak, but nothing I'd want to take out into the Gulf of Mexico. Nope, this kayak has too many good points to sell it.