Launch:
Tuckers Launch (now Brooks Park) which is a little less than a mile south of 158 on US-43 just south of Saraland.
Launch Fee:
$1.
Route:
Southeast down Chickasaw Creek to Greenwood Bayou and back.
Distance:
6.7 miles.
Average Speed:
3.7 mph.
Time:
Approx 2 hrs.
Pace:
Moderate with sprints.
Weather:
Sunny, slight breeze out of the southeast with temps in the 90s. Not very humid though. This was to be a pleasant after work paddle. It was nice, except for about a mile where the air had the strong stench of raw sewage. The smell reminded me of the books,
"Floating Logs" by Lucy Poo Waters,
"Tipping the Outhouse" by John Turner,
"Making a Stink" by Seth Pool,
"Mystery in Prichard" by Hoo Flung Dung,
"Dishonorable Discharge" by Paul David.
(The City of Prichard is one of Alabama's Dirty Dozen of which Paul David is Utility Chief.
http://www.aeconline.ws/Dirty%20Dozen%20Info.htm
Prichard let TENS of MILLIONS of gallons of raw sewage flow into Mobile Bay. Mobile Baywatch filed a lawsuit last year to try to force Prichard to fix their raw sewage leaks. Paul David was recently convicted of the sewage spill and fined a grand total of $3,000 out of a possible 3.9 million dollars.)
http://www.al.com/news/mobileregister/index.ssf?/base/news/1119086283211150.xml&coll=3
All I can say to the whole matter is, Pew, something stinks!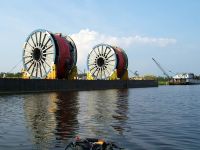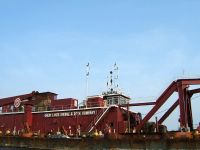 (1)
Above left. There were a few things on this trip that stood out. First, some of the junk Tugboats that have been tied up on the side of Chickasaw Creek for a long time, are gone. Another item missing was the LST-325. In its place were two reely big spools of large pipe sitting on a barge. The photo doesn't quite capture the size of those spools.
(2)
Above right. Further down Chickasaw Creek was the California sitting at a dock. The California is one of the most powerful hydraulic electric dredges in operation in the US.
http://www.gldd.com/TempMain.asp?category=FLEET&title=California&subCat=Cutter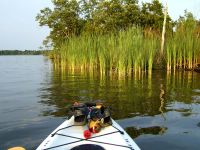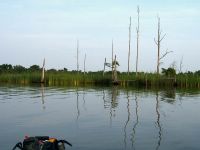 (3)
Above left. At the entrance to Greenwood Bayou, the lower stems of some type of grass seemed to glow from the sunlight of the setting sun.
(4)
Above right. The crooked shadows of bare trees reflect in the water making this photo look like an oil painting.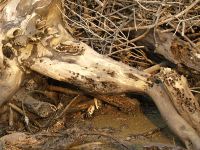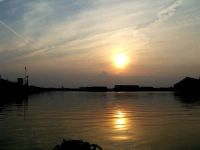 (5)
Above left. The odd looking photo that looks like the decaying thigh bone of some deer like animal is actually a tree stump. Hidden in the recesses of the tree stump are fiddler crabs. If you would like to see some fiddler crabs up close, visit
http://www.fiddlercrab.info/uca_video.html
.
(6)
Above right. The jagged cloud path from a jet trail made it look like the sun was setting erratically, sinking over the horizon like burning fireworks.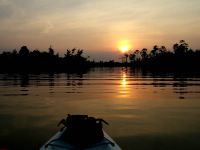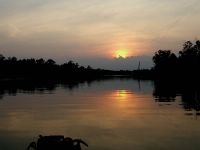 (7)
Above left. The sun reflects over Black Bayou.
(8)
Above right. The sun, gobbled by Mississippi clouds, leaves a slight burning tint on Chickasaw Creek. I love watching the sunset from the water.