Launch:
Luscher Park.
Launch Cost:
Free. There was a fee to participate in the races.
Route:
Today's route was dictated by the race course set up by the Dog River Clearwater Revival group
http://www.usouthal.edu/geography/fearn/DRCR.htm
. Incidentally, the DRCR web site has plenty of good info on the Dog River watershed. There you can learn about what can destroy a healthy river and what can be done to keep a river healthy. Check out what some of Dr. Mimi Fearn's Field Work in Geography Class has learned through their research.
http://www.usouthal.edu/geography/fearn/480page/dogriver.html
Distance:
6.3 miles.
Average Speed:
2.2 mph.
Time:
Approx 3 hrs.
Pace:
Three miles of racing and the rest of the time was spent taking photographs.
Weather:
Sunny, slight morning haze, very little breeze out of the northeast with temps in the 80s. It was a bit humid.Luscher Park (sometimes spelled Lusher Park), is a free boat launching facility giving the public access to upper Dog River, but is rarely used by kayakers.
Why?
Last time I used the facility for kayaking was about 3 years ago. Mike will remember that trip – in a torrential storm that lasted for hours. We finished the paddle fighting a flood current and dodging a parade of trash floating down Dog River. Based on people, vehicles, and behavior at the launch site back then, I got the feeling that Luscher Park was not a safe place and that something was not right.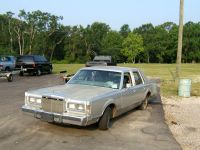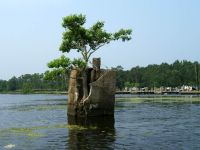 (1)
Above left. I was hoping that my first impression of Luscher Park was skewed. First thing I saw after arriving for the Dog Paddle was an abandoned vehicle with two flat tires, a crunched in windshield, nearly blocking the entrance to the boat ramps, plus a beer bottle on the ground next to it. I'll stick with my first opinion. Both times at this launch site, I observed vehicles driving across the park grass and stopping along the woods in the background of this photo. What were they doing back there? Drinking? Was someone selling Meth out of the woods? Was there some sexual deviants doing unnamed activities in their cars with each other, or in the woods? Most homes in a nearby neighborhood have steel bars covering all their windows. Trash lined the banks of the river. One woman kayaker spent quite a while picking trash out of the water and filling garbage bags because this site was trashy. While trash can originate far upstream, I still get an uneasy feeling about Luscher Park and would not recommend kayaking from this site alone. Please note, this is just one person's opinion. Luscher Park might be a great place, so don't let my opinion sway your desire to kayak in Dog River or let it affect your decision to participate in future Dog Paddles. The Dog Paddle event itself was well organized and it is a delightful kayak event for all kayakers. Where were all the Mobile Bay Canoe and Kayak members?
(2)
Above right. When looking out over the water from Luscher Park boat ramps, one distinct sight is a tree growing out of a concrete pillar or so it looks like from the docks. When you look at it from the opposite side, the tree does have a little bit of soil to live off of, but it is still a remarkable sight. The triple boat ramps can be seen in the background. Trash can be seen in the water. With all the people around today, I wasn't concerned for safety. What was concerning was the grass and weeds growing in the shallow water – not a good condition to have for racing a pedal boat. Luckily, the course was situated in such a way that it could be navigated without having to kayak through much grass.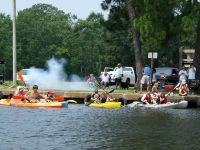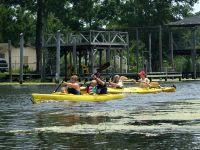 (3)
Above left. Races, like this last race of the day (parent-child) began with the sound of a cannon going off. The man in the blue shirt with his back to you (in front of the pine tree), was setting off the little cannon, seen by his left foot. It was amazing to see such a little cannon blow out such a wad of smoke and create such a huge bang. People had to hold their ears, and those who were not prepared for the start of races, probably stained their underwear.
(4)
Above right. This parent-child race came down to a photo finish. There was some controversy over whether two parents could propel a kayak in a parent-child race against a kayak where a child was paddling.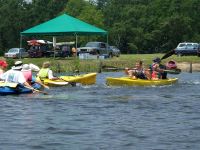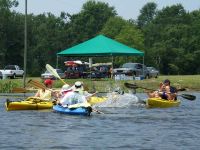 (5)(6)
Above left and right. The parent-child race ended with a barrage of water flying between the top finishers. Anytime you see parents acting like children, you can tell a fun time was had by all. Controversy? What controversy? BTW, Roland, in the black shirt, won most of the races. Go MBCKC!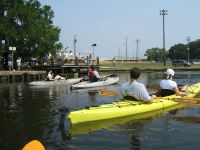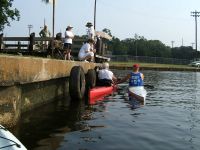 (7)
Above left. Believe it or not, there were two other Hobie Mirage pedal kayaks in line for the two mile race and the couple in the tandem kayak (Mick & Mary Jean) was eyeballing those pedal kayaks closely. Two individuals were just test pedaling the Hobie Outbacks and only did about one lap of the four lap race before giving up and returning to shore. Oh yes, pedaling a Hobie is good exercise! There were a lot of different kayaks and canoes available for anyone to try out and even race if they wanted to. So, the big question is, how did I do in the races with the Hobie Outback? Based on unofficial results, I placed 4th in the 1 mile event, and 5th in the 2 mile event. I was barking mad because it was a ruff ruff race and I didn't even get a dog bone. Heheheh. I was averaging about 5 mph and did beat most of the other recreational kayakers including several tandem kayakers.
(8)
Above right. (William & Kim) Hate to be one to give excuses, but when you have experienced racers in long 17-19 foot narrow kayaks compete against a 12 foot long wide pedal kayak, there is no race except between the long narrow kayaks. I heard one racer comment, "with the low cost of the awards (varnished dog biscuits), the Dog Paddle races should have had awards broken down to current kayak racing standards so the races would be fair to everyone." I agreed, saying, "Pedal boats should have their own division."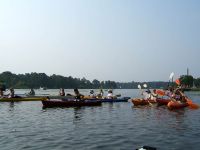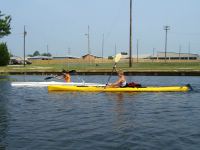 (9)
Above left. The women were getting lined up for the start of their early morning race.
(10)
Above right. It was no surprise that the two ladies (Alicia andNancy) struggling to cross the line first in their close photo finish race, were using long narrow racing kayaks. There should have been awards for those racing in much shorter kayaks as well. Tammy deserved one! The Sound Rowers Club out of the Seattle Washington area, recognizes over a dozen different kayak racing classes. Participants race against others in similarly rated kayaks, rather than pit a long fast kayak against a short slower kayak.
http://www.soundrowers.org/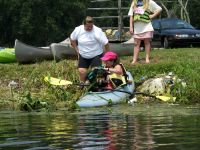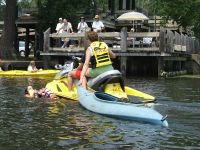 (11)
Above left. The Dog Paddle races were not without minor incidences. While other Dog race participants were waiting at the starting line, this dog, Bud refused to get in the kayak with Sandy. This photo also highlights all the ugly trash that was lining the bank of Dog River.
(12)
Above right. In the Parent-Child race, something happened to a kayak not far from the finish line causing Mom and Child to take a cool swim. The Auxiliary Coast Guard boat, and Alabama Marine Police boat, on site, never even came over to see what was going on. Did they even know there was a little baby (barely visible in the life vest that Mom was holding) in the water? Thankfully, a photographer on a jet ski pulled Mom and Child, and Kayak to shore.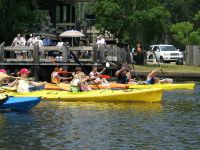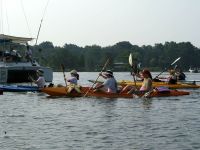 (13)
Above left. Shot of the beginning of the Parent-Child kayak race with the nice park facility in the background that served as starting line and awards center.
(14)
Above right. This was the beginning of the women's race. As in the beginning of most races, water was slinging, and kayaks were bumping as everyone tried to establish their line of direction while maneuvering to avoid patches of shallow grass in the water.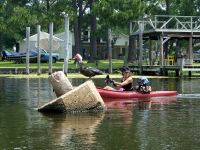 (15)
Above left. There were only three kayaks in the Dog race. I give my most photogenic award to Stacie and her dog Camper. If you take a close look at the dog, it looks like it has a gray moustache and goatee, plus it is wearing purple sunglasses and a cape. It was the cutest thing and this dog was at home on the water.
(16)
Above right. It was billed as the most intense moment of the kayak race when this cool dog shifted in the kayak and appeared ready to take a leap for the spectator duck. It would have been a real featherweight bout that would have quacked everyone up. Luckily, race participants and spectators managed to duck from potential disaster and all finished as dry winners.