Launch:
Protected area by rock jetties far southeast end of Dauphin Island.
Cost:
Free.
Route:
Southwest to Sand Island, then to Dauphin Island Pier, then return to launch site.
Distance:
8.7 miles.
Average Speed:
3.1 mph.
Time:
Approx 3 hrs.
Pace:
Slow mixed with sprints.
Weather:
Sunny with a steady 10-15 mph wind out of the northeast. 1-2 foot chop after getting away from land.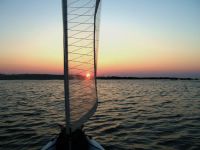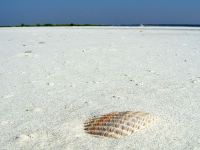 (1)
Above left. I got to Dauphin Island a few hours before the club kayak trip in order to enjoy the sunrise. Took the time to practice sailing the Hobie. It was the first time I had ever aimed at something and tried to reach destinations. It got rather rough when the winds kicked in over 15 mph. The Hobie was sailing at 3.5 to 4.5 mph.
(2)
Above right. After about 4 miles of sailing, I put up the sail and waited for any club members to join the trip to Sand Island. I had no idea today was Father's Day – not a good day to schedule a morning kayak trip because Dads have other priorities. At 8:00 am, I looked back one more time and still saw no kayaks, so off I went to Sand Island. I was standing on the south tip of Sand Island, panting hard trying to catch my breath after surfing waves for 29 minutes. What a morning workout. It was time to cool off and do some shell hunting.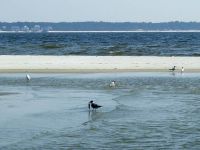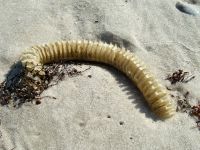 (3)
Above left. A seagull about to have breakfast and it ate the whole thing in one gulp.
(4)
Above right. Not sure what this accordion like object was.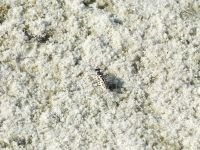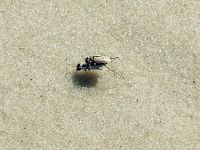 (5)(6)
Above left and right. While walking along the sand, what appeared to be flies taking off as I walked by them, were not flies, but beetles. Here are two shots of tiger beetles engaged in some intimate activities. Tiger Beetles are endangered in some areas of the country.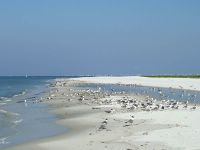 (7)(8)
Above left and right. Birds, birds, and birds, as far as the eye can see.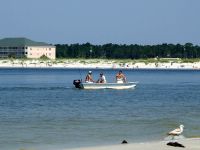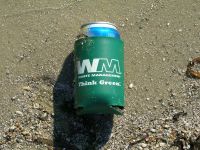 (9)
Above left. It is a good thing no one showed up today. The winds out of the northeast were pushing the water up into Pelican Bay. Despite the calm look of the water, there was some good current running under the Public Pier, heading west. Plus, because the winds were out of the northeast, the north shore of Sand Island had a pretty good chop, enough to cause waves slapping the side of the kayak to get me soaked. The trip along Sand Island was no fun, and then it was fighting current all the way back.
(10)
Above right. Parting Shot: I found it ironic to see trash on the beach, from a company that manages our waste.