It was sunny, temp about 65 degrees, strong northerly winds, and despite tide flowing in, because of storm water runoff, current was flowing downstream briskly. Brint and Linda with their canoe and Roland with his kayak, came out to this paddle.

Launch:

Bayou La Batre Public Boat Ramp.

Route:

Northeast up Bayou La Batre and back.

Distance:

7 miles.

Pace:

Leisurely 2-3 mph.

Time:

Approx. 3 hours.

Launch Cost:

Free.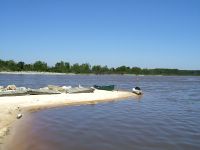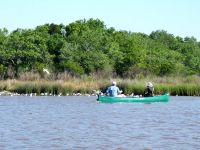 (1)

Above left. There is a nice sandy launch area next to the boat ramp. Parking is about 100-200 yards away in a gravel lot.

(2)

Above right. After launching, Brint and Linda paddled over to view some Sea Gulls and Pelicans.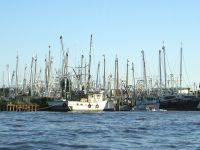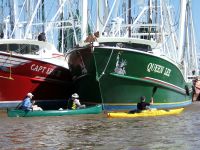 (3)

Above left. As we headed north, at times it felt like being in a jungle of branchless towering iron trees. A pontoon boat can barely be seen amongst the giant shrimp boats.

(4)

Above right. Brint, Linda, and Roland get a close up view of two shrimp boats. Artwork adorns the front of most shrimp boats.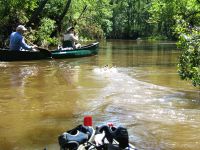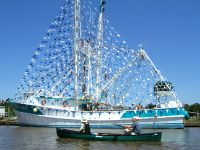 (5)

After passing by the decorated boats and lift bridge, we proceeded further upstream fighting a current that was getting stronger as the bayou narrowed. Above left. A juvenile duck teeming with energy was excited seeing the green canoe. This silly duck was running on top of the water trying to keep up with Brint and Linda. Hmmm. Seems everyone wants to race when they are around Brint. After several turns in the bayou, the duck finally conceded the race and went ashore to rest.

(6)

Above right. Photo of one of the decorated shrimp boats we passed on the return trip. When winds gusted, all the streamers on the decorated boats created quite a din. Roland speeded back to the launch site due to time constraints and was gone by the time we returned. Brint, Linda and I proceeded to the Blessing of the Fleet festival to taste some of the seafood. I thoroughly enjoyed this trip on a perfect weather day.