Launch:

Key Sailing, located on Santa Rosa Sound side of Pensacola Beach.

Route:

None – meandering and exploring.

Distance:

12.7 miles.

Pace:

Leisurely and sprints to surf boat wakes.

Average Speed:

2.8 mph.

Time:

Approx. 5 hrs. Went over to Pensacola to have a Hobie dealer look at my pedal unit which has been squeaking intermittently. Perhaps I have worn the thing out. After Keith Sawyer adjusted the pedal unit chain tensions, it worked fine all day. If you ever want to test out a pedal kayak, Key Sailing (
www.keysailing.com
) is the place to go. Keith let me test a pedal kayak out all day two years ago, at no charge, and he stands behind his sales. Key Sailing is located right on the beach.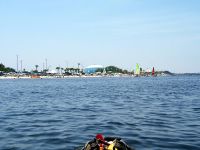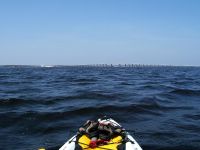 (1)

Above left. Kayaking in Santa Rosa Sound, east side of the Toll Bridge.

(2)

Above right. Kayaking in Santa Rosa Sound, west side of the Toll Bridge, seen in the background.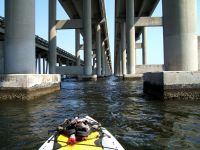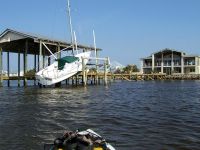 (3)

Above left. Another perspective of the $1 toll bridge that takes you to Pensacola Beach. The current was flowing about 1.5 mph here.

(4)

Above right. Pedaling east along the south side of Santa Rosa Sound, the parking of this sailboat brought to mind the rule of thumb – don't drink and sail lest you may regret it the next morning.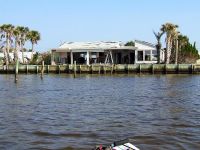 (5)

Above photo. Here it was Mother's Day and the beach was almost deserted. Something didn't seem right. Closer to the shore came the clue to why there was almost no activity. Many of the homes along the beach are still in the shape of home pictured above – uninhabitable. The blue tarps used to protect damaged roofs have deteriorated and blown off most homes. Hurricane season is rapidly approacing and these unfortunate folks along Pensacola Beach have barely begun to recover from last year's destruction. I had no idea how bad Hurricane Ivan tore up the coast until kayaking along this beach. This kayak trip left me shaking my head in disbelief, awestruck at the power of wind.