Launch:
Tucker's Lodge (landing) now called Brooks Park.
Launch Fee:
$1.
Route:
South on Chickasaw Creek to Mobile River to Choctaw Pass and back.
Distance:
20 miles.
Average Speed:
3.1 mph.
Time:
Approx 7 hrs.
Pace:
Leisurely.
Weather:
Predicted thunderstorms. Mobile River offers some protection from lighting storms - you can wait out a storm under one of the piers and stay dry.
Caution Note:
Kayking in lower Mobile River can be very interesting, but it is also a dangerous place. There are tugboats, speeding pleasure boats, bass boats, high security area Naval boats, and even 700 foot cruise ships to contend with. From Chickasaw Creek southward Mobile River has no natural bank to absorb waves. When a boat goes by that is generating a wake, the waves bounce off the piers and go right back into the river. Those waves bounce into other boat wakes creating waves going in different directions. Mix in a fast moving current with strong southerly winds, and the waves can be large, and can come at you from all different directions. Ships are quiet, so you constantly need to look behind you to see if any have pulled out and are creeping up on you.
Kayaking in the Mobile River Industrial area is not a place for beginners.
Tide was coming in on this trip so there was very little current to contend with.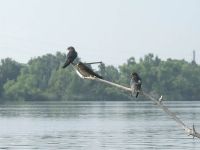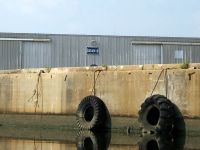 (1)
Above left. Chickasaw Creek. Swallows take a break from their low altitude aerobatics after getting a belly full of insects – hopefully all mosquitoes! The barn swallow is one bird that has benefited from man's infrastructure. You can often see swallow mud nests underneath bridges.
(2)
Above right. Have you ever seen a Lean-2 shed? Well, now you have.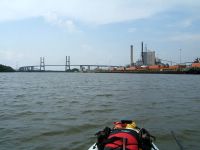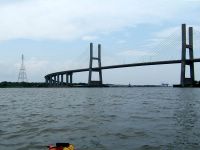 (3)

Above left. Took this shot while talking to my brother and sisters on the phone. It started clouding up as I approached the Mobile River and the rain started shortly after that, on and off all day long. The orange trucks are Schneider National Carriers parked at the Kimberly Clark facility. In the background is the Africatown-Cochrane Bridge.

(4)

Above right. Another look at the Africatown-Cochrane Bridge from a kayaker's perspective.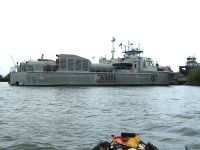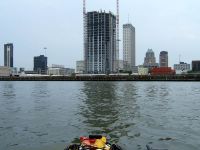 (5)

Above left. This futuristic looking boat called the AMH Seacoaster, was launched at the Austal Mobile Shipyard. The advanced marine vehicle is undergoing testing in conjunction with the Office of Naval Research. http://www.seacoaster.com/

(6)

Above right. One of the reasons I wanted to go down Mobile River was to see the RSA building up close. Some of the lower floors are looking completed on the outside. The Mobile skyline viewed from the river will be spectacular when it is finished.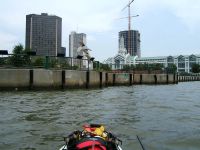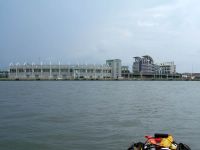 (7)

Above left. The sculpture is in Cooper Park, which isn't even listed as a park according to the official city of mobile website.

(8)

Above right. I had to kayak to the east side of Mobile River to get this shot. The Carnival Holiday cruise ship terminal is the building on the left. It is much more beautiful from the water than from the interstate. http://www.shipmobile.com/ The Mobile Government Plaza is the building on the right. Our skyline is starting to look real impressive!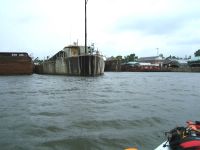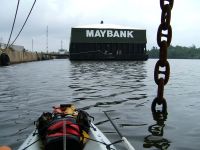 (9)

Above left. One of the piers along Chickasaw Creek has in interesting shape. The front of the concrete pier is shaped like a ship. It was raining again, but it was one of those nice gentle rains.

(10)

Above right. This photo was taken while under the bow of a huge ship. I could only imagine what one link of that chain weighs. The ship in the background, Maybank, Helen II, is not a ship, but a warehouse on water. Inside the structure, it is like a well lit warehouse. You can see a Maybank here often because the Mobile Marine Terminal is one of the two main loading ports for this 3 ship company. http://www.maybankshipping.com/eng_vessels.html. This was a most enjoyable day – cloud cover, not much wind, favorable tide, and the thunderstorms stayed away.