Launch:

Byrnes Lake Boat Ramp.

Route:

Byrnes Lake to Tensaw River, then north toward Hurricane Landing, and back.

Distance:

8.7 miles.

Pace:

Fast.

Average Speed:

3.3 mph out, 4.3 mph back.

Time:

Approx. 2 hrs. Went out for a pedal to the cadence of Jazz music put on by Catt Sirten at WHIL. I've been listening to the Sunday Morning Jazz Brunch since the 1980s.
http://www.radioavalon.com/home.html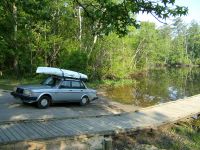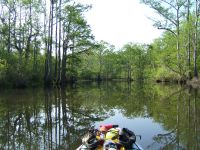 (1)

Above left. Byrnes Lake boat ramp may be remote, but it has plenty of parking, a small fishing pier and enough firm sand making for a nice kayak launch.

(2)

Above right. What else is there to say? The stillness of a calm early morning on a polished mirror reflecting nature's pulchritude is my Sunday morning relationship with the Creator.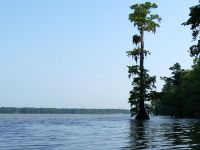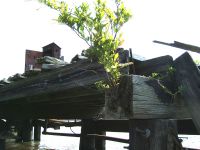 (3)

Above left. After pedaling west for about 1.5 miles, Byrnes Lake empties out into the Tensaw River. I headed north on the Tensaw and pedaled under an occupied Osprey Eagle's nest which you can see about three quarters of the way up in this tree. The Eagle squawked like a baby. The Tensaw river ranges from from about a half mile to a quarter mile wide in this area.

(4)

Above right. Further north, there was an old abandoned pier that showed new signs of life. This plant, whatever it is, was thriving in wood, and was in bloom.

I had planned on pedaling up into Hurricane Landing and beyond but started experiencing some mechanical problems (squealing) with the Hobie pedal unit and had to cut the trip short. I turned around and pedaled hard to get back to the Byrnes launch site. The only Hobie dealer in this area wasn't open, so I drove over to Pensacola to Key Sailing for help. It is where I purchased my Hobie Outback back in 2003.