Launch:

Causeway Public Boat Ramps.

Fee:

Free.

Route:

Desired-Mobile River. Actual-Conway Creek Loop.

Distance:

12.2 miles.

Average Speed:

3.5 mph.

Time:

Approx 3.5 hrs.

Pace:

Moderate.

Weather:

Strong southerly winds. Finally, after two bad trips into the water on this day, I launch at one of my favorite places and decided to go by the big ships on Mobile River – tide should be pretty accommodating and current should not be that bad on the way back.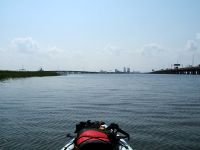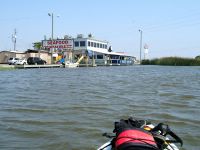 (1)

Above left. Heading west along the I-10 interstate, you can get a pretty good view of the changing skyline of Mobile. Alabama's soon to be tallest building (RSA) is under construction. Figured the RSA building would be cool looking up close, so off toward Mobile River I headed.

(2)

Above right. The Original Oyster House is one of the area's more popular restaurants. You can park your boat or kayak at their dock and then go eat.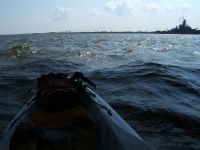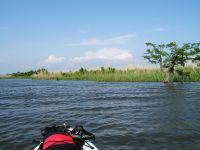 (3)

Above left. After passing under the Highway 90 bridge, water conditions changed drastically. A lot of current flows though this area and it often interacts with winds to create some confused choppy waves. Already had a bad day with waves, so I decided, maybe Mobile River wasn't such a good destination after all. One has to be flexible with their destinations when kayaking.

(4)

Above right. So I turned around and went north opting to go up the Tensaw River to Conway Creek. There was a nice tailwind and the strong southerly winds were causing current to flow north when it should have been flowing south. By hugging the bank of the Tensaw River, I stayed sheltered from the wind.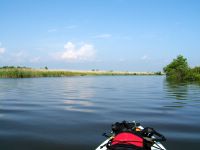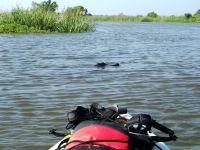 (5)

Above left. After turning east into Conway Creek, the water was even more protected from the winds. Waters slicked off, the current was still flowing with me, and the new pedal unit was working perfect. Ahhh, life is good!

(6)

Above right. Conway Creek twists around, and along comes a river dog trying to block my path. On a bicycle, dogs used to chase me, now. In a kayak, it is river dogs (alligators) that play games. Even though river dogs may be stupid, you need to respect them, and their mighty power.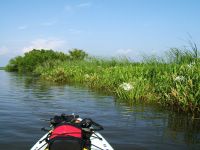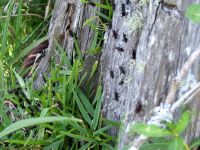 (7)

Above left. I headed north from Conway Creek up the cut to Little Bateau. About a quarter of a mile up the cut, there is a little fishing pier. It is a great place to get out and stretch the legs. The pier and hunting shack are located just behind the trees on the bank. All along the edge of the water, it looks like a well kept botanical garden in places.

(8)

Above right. There is an old stump next to the pier and upon closer inspection, the baby grasshoppers or whatever they are classified as, are small now, but these insects will get big.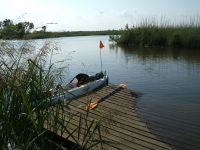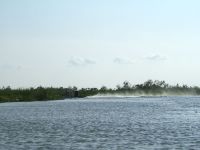 (9)

Above left. The pier, conveniently tilted so there is always a nice elevation to get out at, was partly underwater at high tide.

(10)

Above right. While on the pier, an airboat came by. This guy runs airboat tours out of the Blue Gill Restaurant or somewhere nearby. He does the responsible thing by slowing the airboat down to an idle when passing by. After he passed and turned, he cranks up the engine. The airboat proceeds to send a spray of mist about 100 yards behind him. Airboats can be hazard to kayakers, but I commend the operator of this airboat – he is a professional. I still hate airboats because their noise ruins the ambiance of the silence in the Delta – big time!