Launch:

Cloverleaf Boat Ramp.

Fee:

Launch fee has gone up to $4.

Route:

South on the Tensaw River to the Bluff, across the Tensaw, Northeast in Half Mile Bayou, back to the Tensaw and the next destination, Gravine Island, was never reached.

Distance:

5.8 miles.

Average Speed:

3.0 mph.

Time:

Approx 2 hrs.

Pace:

Leisurely to Fast. Wanted to do a little LSD today, but feared the pedal unit would cause more problems. Sure enough, after about 3 miles, the pedal unit started squealing again, so, I immediately returned to the boat launch. Oh…LSD…let me elaborate before you draw the wrong conclusion. I am trying to lose and control weight. The only way I have success at losing weight, and keeping it off, is by LSD – Long, Slow, Distance – of any aerobic activity. My body doesn't really get into fat burning mode until the stores of regular energy are burned up and that happens after about 2 hours of exercise. I needed my pedal kayak functioning right so I can get regular fixes of LSD, so, off I went to Key Sailing in Pensacola.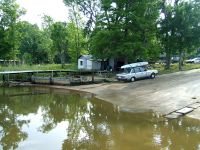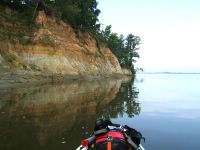 (1)

Above left. Cloverleaf boat ramp has just enough sand to make launching a kayak easy while leaving room for power boaters to launch.

(2)

Above right. There are not many bluffs in the lower delta. Once launched, of you look to the south, there will be a bluff on the left hand side that is interesting to look at because of the various earth layers.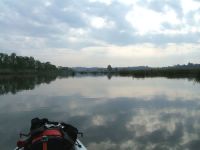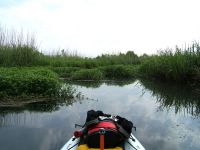 (3)

Above left. Directly northwest of the bluff, on the other side of the Tensaw River, is what I call Half Mile Bayou – it has no name on the maps, but if you go south on the Tensaw from there, you'll pass One Mile Bayou and Three Mile Creek. Half Mile Bayou used to be one of my favorite places to take photos, but it is not friendly to pedal boats because of the shallow depth.


(4)

Above right. The entrance of Half Mile Creek can be found at the northeast end of Half Mile Bayou. About half a mile up the creek, there was a large nesting area of Herons that I enjoyed photographing. In only two years, that nice isolated creek has been taken over by vegetation and weeds to the point where even the entrance, shown in the photo, is closed shut by weeds. We're slowly loosing some of the best places to kayak.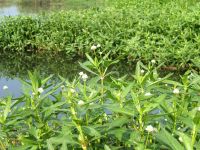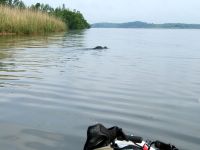 (5)

Above left. One invasive weed, from the Amaranth family – called Alligator Weed, aka Chaff's Weed, aka Alternanthera philoxeroides, is said to have come from South America. What will happen when all the streams are totally clogged with weeds? Will dragon flies, which eat a lot of mosquitoes, lose their nesting grounds causing an increase in mosquito populations? Ouch!

(6)

Above right. On the way to Gravine Island, a respectably sized alligator pulled out in front me without even a hand signal to indicate his intent. Good grief! It never even bothered to look to see if there was oncoming traffic. It is lucky I wasn't speeding! This perfect pedaling day was interrupted by mechanical problems with the pedal boat.