Launch:
Hurricane Landing.
Launch Fee:
$3.
Route:
Up Hurricane Bayou till kayaks could go no further. On the way back, we went ¼ mile west across the pipeline canal to the Tensaw River. From there, south down the Tensaw, and then back up Hurricane Bayou.
Distance:
7.2 miles.
Average Speed:
Approx 2.8 mph.
Time:
Approx 2.5 hrs.
Pace:
Leisurely.
Weather:
It was a bit warm - about 90 degrees. The shade in the upper end of Hurricane Bayou was a welcome relief from the hot sun.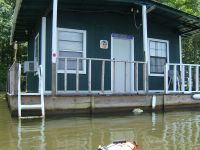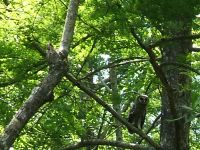 (1)
Above left. I arrived at Hurricane Bayou early thinking I could practice sailing the kayak out on the Tensaw River before the club trip. The rule of thumb that says if no wind, no sail, is true, so I pedaled. The houseboat, located near Cliffs Landing, must have been occupied by a Jeff Gordon fan.
(2)
Above right. On the way back to Hurricane Landing for the club paddle, the sound of a Wampas Cat, or screeching baby in the woods caused me to stop and say, "What the heck was that!" After searching for several minutes, a movement in a tree helped identify the source of the eerie sound. It was an owl. I've heard owls, but never sounding like this one.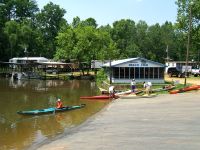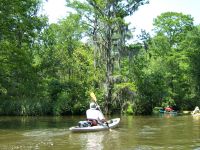 (3)
Above left. About eight kayakers launched from Hurricane on a hot Sunday afternoon, led by Brint in his Seda racing kayak. There were several new faces in the group.
(4)
Above right. It was a pretty day to go exploring Hurricane Bayou. It didn't matter if you had a pedal boat, a sit-on-top, new or old, or a racing kayak – the scenery was enjoyed by all at a leisurely pace. Only two jet skis and one boat passed us during this trip.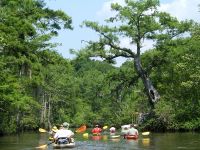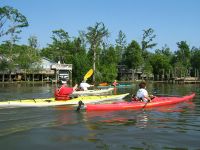 (5)
Above left. Was it coincidence that we passed by a holey tree on Sunday? Just beyond the holey tree, a family was working to put a roof on a little houseboat. Their kids jumped into the water as we passed by.
(6)
Above right. Heading south on the very calm Tensaw River, we passed by the homes of the Hurricane Bayou community. Their peaceful location is interrupted by trains crossing a noisy bridge two or three dozen times a day. I could get used to it!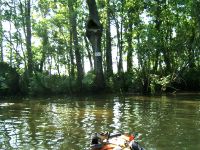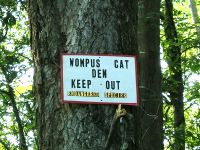 (7)
Above left. Not sure how many in our kayak group noticed this tree on our way back to the launch site. It looks like a knee joint, minus the patella bone, and with a hole in it.
(8)
Above right. Underneath the odd looking tree was a sign. What the heck is a Wompus Cat? Well, there is a band called Cattywompus. In the dictionary of Mountain Talk, Caty Wompus means a vicious beast. Wompus Cat is a sailboat that you can build. Kitty Wompuss is a graphics web site. Wompus Cat is also the name of a Day Lily. Someone must have spelled it incorrectly. I think this sign is more related to the legend of the Wampus Cat.
http://www.itasca.k12.tx.us/wclegend.html
Kayaking is great fun because if you go slowly enough, there is always something interesting to see. I encourage you to join Mobile Bay Canoe and Kayak Club trips. Visit their web site often for a current schedule of events.
http://www.baykayaker.blogspot.com/