Launch:

Byrnes Lake Public Boat Launch.

Fee:

Free.

Route:

West on Byrnes Lake, North on the Tensaw River to Dennis Lake, then East on Red Hill Creek.

Distance:

24.8 miles.

Average Speed:

3.0 mph.

Time:

Approx 8.5 hrs.

Pace:

Leisurely.

Weather:

Winds calm. 30% chance of rain in the morning. This was a LSD trip (Long Slow Distance).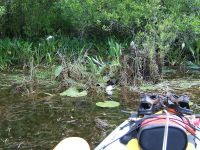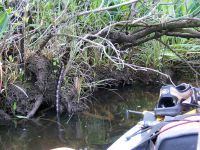 (1)

Above left. Right across the boat ramp the eye treats began. Spider Lilies, Golden Club, and Fragrant Water Lilies.

(2)

Above right. Not far from there, a snake slithered across the water and partially up the bank before coming to a stop. Not sure what kind of snake this was. If any of you know, please leave a comment to let us know.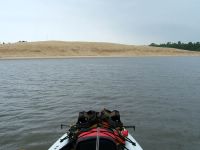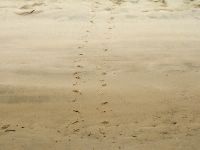 (3)

Above left. About 2.5 miles from the launch, northwest across the Tensaw River, lies Gravine Island, known for its sand dune on the north side of the island. The first rain of the day began.

(4)

Above right are turtle tracks. Gravine Island is one place where endangered Alabama Red Bellied Turtles lay eggs.
http://www.archives.state.al.us/kids_emblems/st_reptile.html
Unfortunately for the turtle, Gravine Island is also the local hangout and party zone during the hot summer months. Protecting the turtle's egg nests is a difficult task because party goers ignore the warning signs and walk all over the sand dune where they are not suppose walk. Turtle eggs get crushed.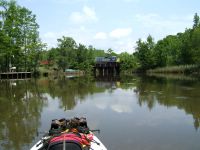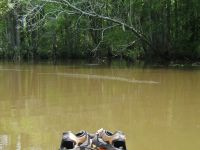 (5)

Above left. About 3 miles north of Gravine Island is Hurricane Landing, where you can launch a kayak for $3. Just to the north of the launch, you go under a Rail Road.

(6)

Above right. As you go north into Hurricane Bayou, you'll pass the pipeline canal. I went west into the pipeline canal in order to get back out to the Tensaw River. Summer time is getting here – the water beetles, which you can see in the photo, are beginning to get bigger.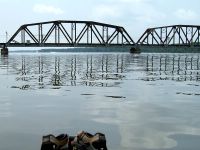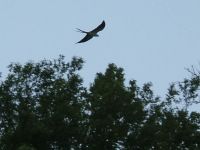 (7)

Above left. Back out in the Tensaw River, I turned south and took a photo of the rail road bridge – it had a nice reflection in the water. Barely visible in the background is the corner of Gravine Island.

(8)

Above right. As I was cruising along the east side of the Tensaw River, a majestic gliding bird caught my attention. The Swallow-Tailed Kite, not often seen, is an easy bird to identify because of its forked tail.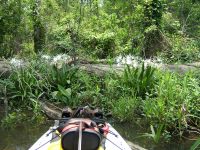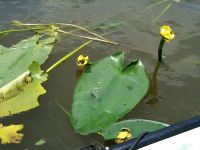 (9)

Above left. A nice little patch of Spider Lilies.

(10)

Above right. A dragon fly on a Yellow Pond Lily leaf. You can almost always see something in bloom when kayaking, 12 months out of the year.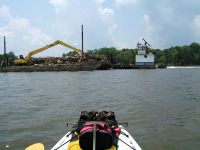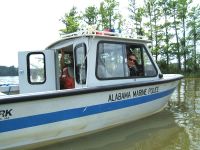 (11)

Above left. Barge traffic on the Tensaw is a rare site. This particular barge was hauling a load of trash and tree debris. Hopefully the tree debris came from log-jammed creeks.

(12)

Above right. An Alabama Marine Police boat crossed the Tensaw River to come over and check out the Hobie Outback. We talked as we drifted into the entrance of Dennis Lake. The marine police officers, whose names I can't remember, asked what powered the kayak and I showed them the pedal unit. The humorous crew pointed out that because of the pedal unit, my boat was a mechanically operated boat, and therefore, I needed a license to operate it. Hey, they are not lying. Alabama requires registration of all mechanically propelled vessels. Check out the following link.
http://www.outdooralabama.com/boating/registration.cfm
I dared them to give me a ticket, but grinning, they wisely chose not to. You see, one of the exceptions of the mechanically propelled vessel rule is sailboats. The Outback is also a sailboat, therefore, it is exempt! Ha! After telling them where they could buy a Hobie Mirage, we took off in different directions, I headed up Dennis Lake and they headed off toward the Party Zone – Gravine Island.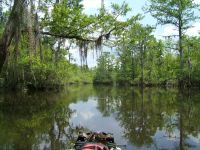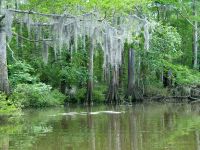 (13)(14)

Above left and right. Spanish Moss tinsel garnishes stately trees in the Delta.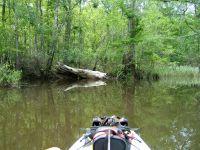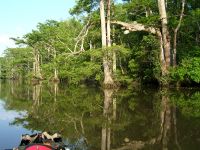 (15)

Above left. Sometimes, the odd shapes of trees, twisted and warped by the forces of nature, can take on characteristics of other life forms. As I was pedaling and talking to my sister Nannie on the phone, I took a photo of a slumped stump that looked like a giant squid coming out of the water. Let's see paddle kayakers paddle, steer, and talk on the phone while taking photos. Now you know why I love the Hobie Outback – the SUV of kayak comfort!

(16)

Above right. Another interesting one-eyed tree creature sticks its head out of the woods. What kind of creature does it look like to you? Comments?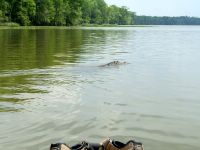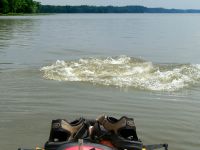 (17)

Above left. A trip into the Delta is never complete until a River Dawg cuts you off.

(18)

Above right. Typically, the River Dawg will then disappear beneath you with a splash.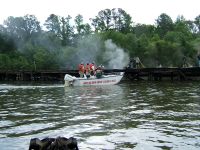 (19)

Above left. The pier just north of Cliff's Landing was smoldering when I passed by it heading toward Red Hill Creek. On the way back, despite some persistent rain showers, the fire that had been extinguished the night before, restarted itself. Baldwin County Search and Rescue stood by while fire fighters tried to put out the fire again.

(20)

Above right. By the end of the trip, it must have rained on me over a dozen times. The rain was a welcome relief to the heat. According to color radar, a small pocket of showers was just sitting overhead most of the day. Thanks to cell phone technology, live time color radar is a call away.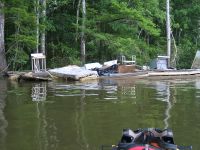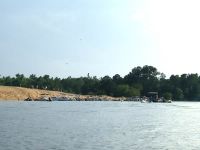 (21)

Above left. For Sale: Wide open spacious house boat for sale. Outdoor plumbing. Waterbed. Needs minor work. Fully furnished with bookshelves, tables, and other appliances. Fresh water hookup available. Enjoy that outdoor scent of fresh air from your living room. 1-800-ITS-UGLY.

(22)

Above right. In the morning, the Gravine Island dune was empty. By afternoon, lots of boaters are having fun at the party zone. I head back to the Byrnes Lake boat ramp, very satisfied, having had a wonderful day with lots of painless weight burning exercise.